Company Profile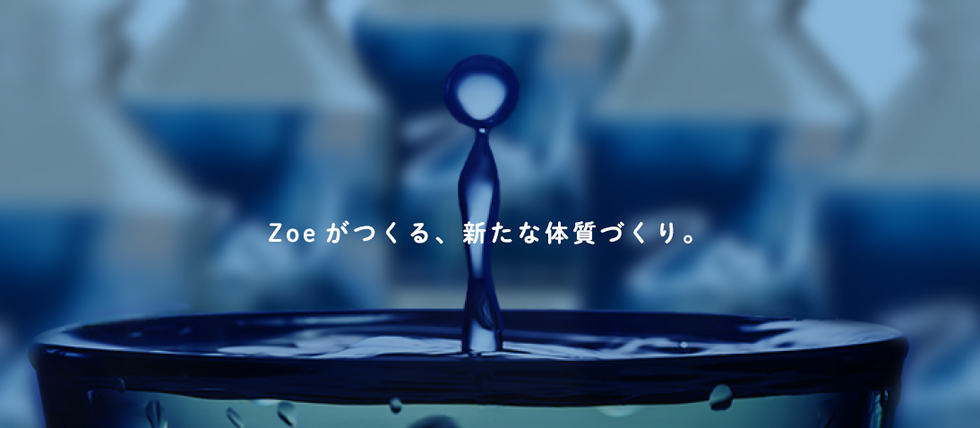 Corporate Name:nereisuCo., Ltd
Representative Director: Aya Yamamoto (Japanese Association of Groundwater Hydrology Membership)
Incorporated: June 23, 20016
Capital: 1,000,000 yen
Corporate Headquarter: 4-6-8 Naritanishi, Suginami-ku, Tokyo
Main bank: Sumitomo Mitsui Banking Corporation, Ogikubo branch

Zoe began with a simple question: exactly how clean is the water I am drinking?
As someone who carefully chooses what I put in my body, the water that I drink is very important to me. I'd recently heard questionable accounts of the pollutants that can be found in both tap and bottled waters, so I decided to do some research. Through my investigations into "the cleanliness of water", I came across a not so familiar term: 'nitrate-nitrogen'.After discovering that measures of pollution are based on the presence of this element in drinking water, the search to find the most unpolluted water became my goal.
After many months, I finally found Mount Daibosatsu, the origin of Zoe.
During my search, I also learnt interesting facts about Black Silica. The tremendous health benefits of Black Silica meant that we had to incorporate this ore with Zoe water in order to have/find the cleanest water. With Black Silica involved in the process our natural water,Zoe, was born.
It's interesting to see that we know very little about the quality of the water we drink when our society, and life in general, relies so heavily on this precious substance. With this in mind, it's not farfetched to say that water has some effects on disease prevention, natural healing processes, anti-ageing and improved skin quality. As individuals we can influence our own health substantially; water makes up the majority of our bodies, therefore I hope you see the power of water on your health through drinking Zoe.
The journey with Zoe has just started - I hope to further raise awareness of Zoe and the benefits of choosing a natural and pure water, especially for our children, mothers, and health conscious individuals.

Company Profile based on Specified Commercial Transactions Law
Company Profile

Store Name:waterzoe
Corporate Name:nereisuCo., Ltd
Representative Director: Aya Yamamoto
Corporate Headquarter: 4-6-8 Naritanishi, Suginami-ku, Tokyo
Tel:  0120-936-236 10:00 - 17:00 (Except Sat. Sun, Holiday)
PaymentValue
Payment Value: Stated Value (Included Tax)
About Tax: Our store introduces stated value including 8% tax.
Payment Information
・Cash on delivery
Either cash or credit card is available
※Please transfer only payment for products
About remittance
All Free Shipping fee
About Shipping
Delivered by Sagawa Express
About date of shipment
▪Date of shipment set its standard: delivered in 3 days including bank transfer and cash    
payment on delivery.
▪As for some regions, it might not be able to specify time to be delivered.
▪There are cases we are unable to deliver because of traffic or weather condition.
▪Disclaimer follows claws of delivery company

Please confirm once you received products.

Though we try to simulate actual products in picture, it might be different depend on each laptop screen. Please note in advance.
If applied to cases below, please contact us in 3 days after received products.
If you received damaged products
If products are not the one you ordered
If different number of products was delivered.
If different amount of payment was charged
Customer is allowed to return products by their convenience if contacting us within 7 days. In this case, fee for shipping or bank transfer will be customer's expense.(However, we are not be able to accept them if applied to one of cases below)

Products cannot be returned or exchanged if applied to following cases
・More than 8 days past after products have been delivered.
・If products were already used.
・If products were damaged by customer's fault.
・If package or instruction was damaged by customer's fault
・If products were processed by customer
※Returning or exchanging would not be accepted more than 8 days past after products have been delivered.
※Please contact usif products were damaged while shipping. We take responsible for delivering new one including shipping fee. Please note in advance that person in charge of delivery company may contact customer directly. (However, it might be unable to exchange if there are no stocks.)
Return expense
In case of our fault --- covered by our expense
In case of customer's convenience --- not accepted
Shipping address
4-6-8 Naritanishi, Suginami-ku, Tokyo
nereisu Co., Ltd
※Delivered company for return shipping is not specified
【About Privacy Policy】
【About Privacy Policy】
Privacy policy means private information including user ID, name, postal cade, address, phone number and e-mail address that are provided by customer to manage our website and it is specified by combining one of those or more.

【About how we deal with private policy】
In this website, we do not collect private information without user's permission. In case we do, we clarify the purpose and do not use in other way. Private information is not disclosed to third party except for following cases.

・When user agrees
・When consigned business to deliver company for shipping.
・When asked toprovide private information by laws
【Purpose of use for private information】
In case asking user to provide private information, we clarify the purpose of use on the website in advance and use it in the purpose. When we use beside purpose we clarified, we notice user in advance. In case new purpose of use is not agreed, user is able to deny by their choice. However, if private information is needed for offering our services, user might not be able to be offered services. Private information user provided, we use those for following purposes.
・Replying to inquiry
・Delivering products customer ordered
・Contacting user when needed


【About copyright】
Information on this website is protected by copyright act
Please note that private use without permission of copyright is Illegal. (Copy, reprint, distribution, sale, publish etc...)